Ultrasonic Pool Water Level sensor
Used in Liquid & Solid Storage,especially for Water Treatment
Product Description
Our VRPWCS71 Level Transmitters has the characteristics as following: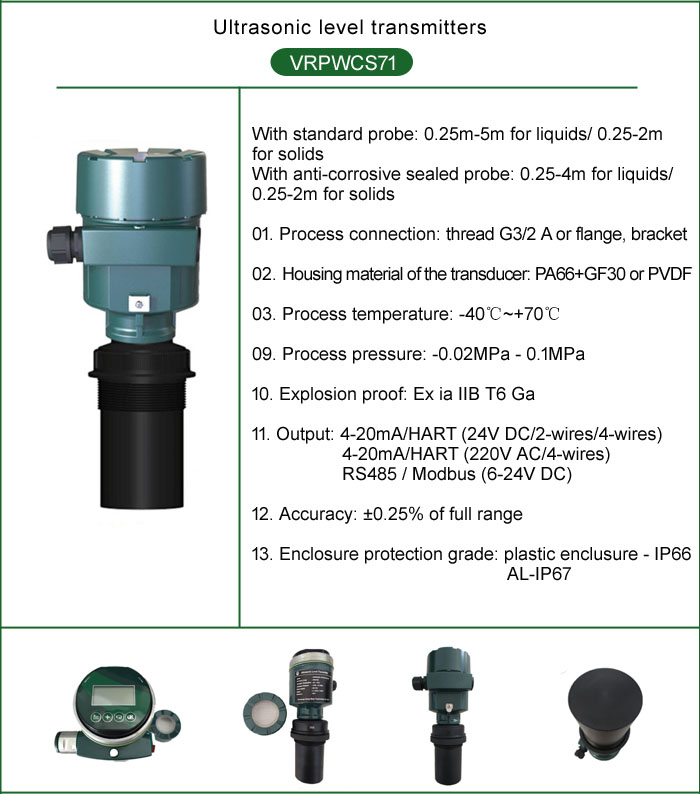 Overall dimension & housing size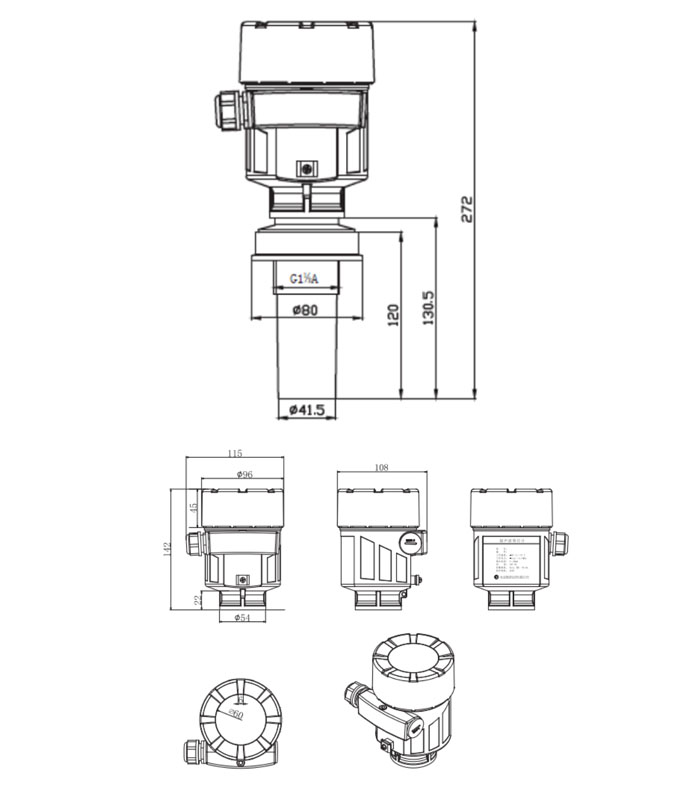 Installation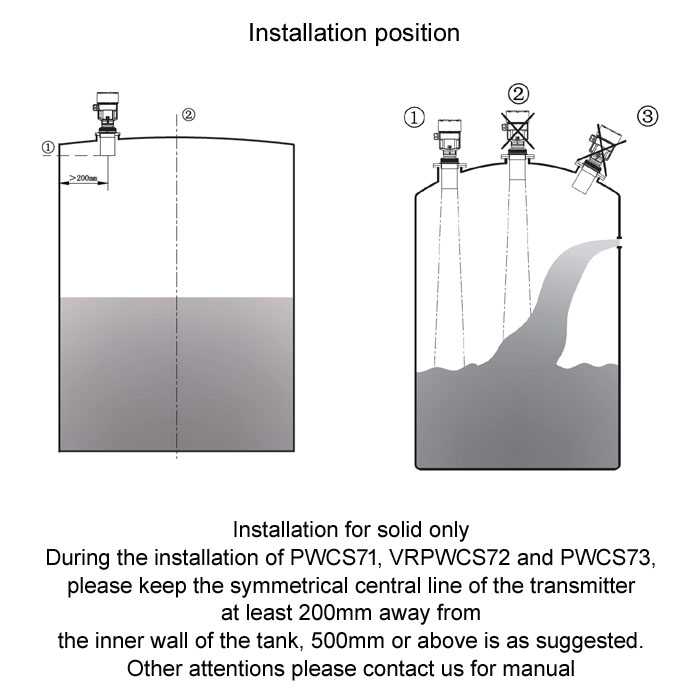 Wiring Connection
Application Show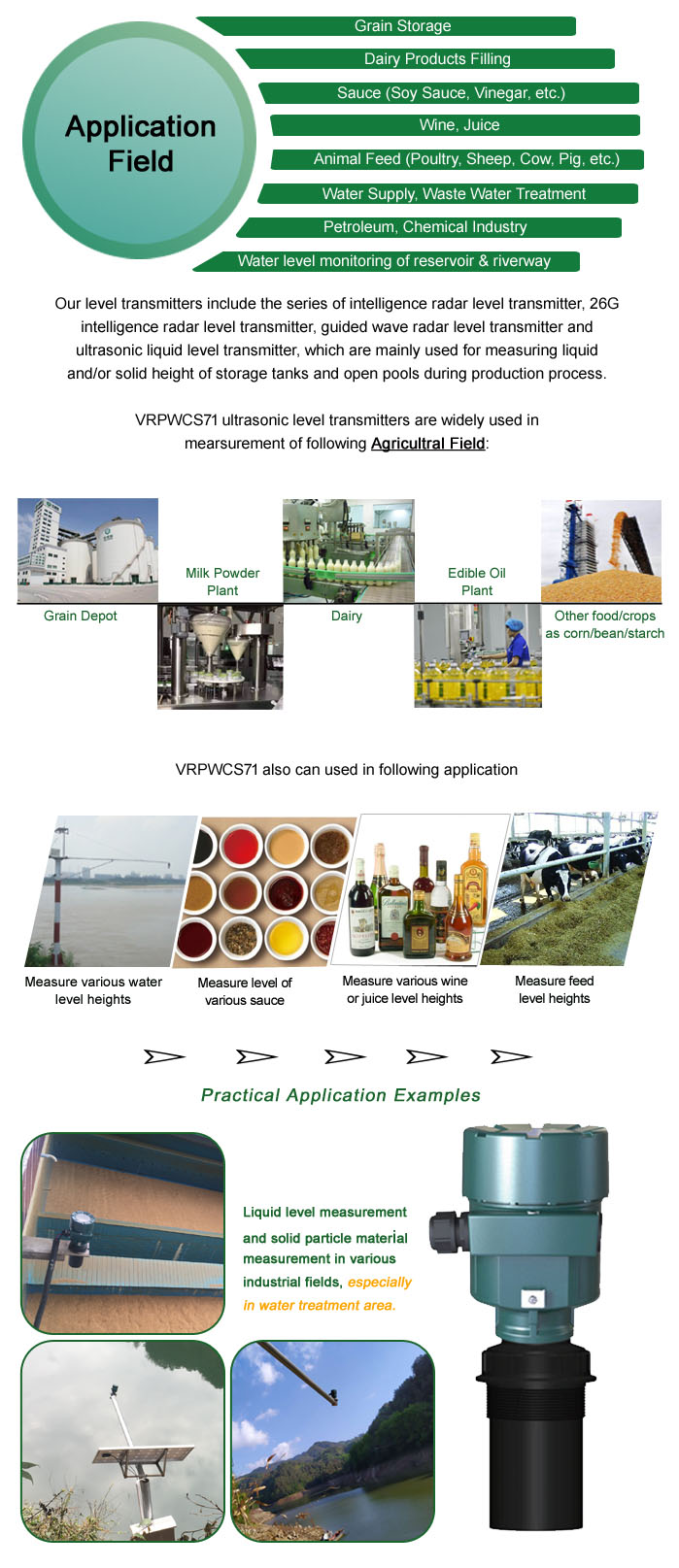 FAQ
We list some common questions from our customers which may also solve some doubts of yours. If not, please feel free to contact us to get related information.
1. About Price:
The price is based on the functions on request, and also it is negotiable.
It can be changed according to the quantity in one PO. When you are making an inquiry, please let us know the quantity in demand.
2. About sample:
Sample is available with special discount.
3. About MOQ:
The MOQ for all different types of our level transmitters is 1 unit.
4. About OEM:
Welcome, you can select one color from our existing housing color collections, which is free of charge. You can also design your own housing color, which may be chargeable depending on the quantity. The nameplate information can be put on your requirement with your LOGO.
5. About warranty:
We are very confident in our products, and we pack them very well, so usually you will receive your order in good condition. The warranty period is 18 months from date of delivery or 12 months upon arrival.
6. About technical service:
We provide positively technical support for necessary documents or drawings in need, and also prompt response for any problem at the working site. We also offer technical assistance in efficient ways.
About payment or other questions:Please contact with us in details.
When Order
Before you place/confirm an order, please provide necessary information list in following table as detailed as you can, for us to check whether the item is suitable for your usage.



Medium state

◊ Liquid

◊ Solid

Solid type

◊ Lump

◊ Particles

◊ Powder

◊ Fly ash

Measuring range

mm

Process temperature ℃




Process pressure kg/cm2




Process connection flange size




Mounting nozzle height

mm

Communication protocol

◊ HART

◊ RS485

◊ N/ A

Exproof type

◊ Ex ia (Intrinsically safe)

◊ Ex d (Explosion isolation)

◊ N/ A

Cable entry type

◊ M20*1.5

◊ 1/2'' NPT
Company Information
Here we provide some reference information of our company to show our scale and power. What we always insist on is "Share win-win with virtue".